MASTER - Measures for Adults to Support Transition to further Education and Re-skilling opportunities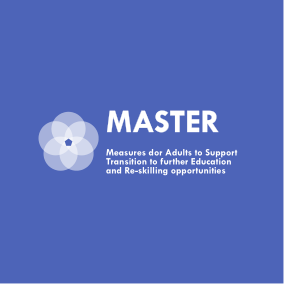 The European Pillar of Social Rights states "Everyone has the right to quality and inclusive education, training, and lifelong learning in order to maintain and acquire skills that enable them to participate fully in society and manage successfully transitions in the labour market".

Despite this, in 2016, 63 million European adults were found to have, at most, a lower secondary education qualification. As highlighted by
the OECD Survey of Adult Skills, low-skilled adults are less likely to find a job or to take part in learning, although these are key to their social inclusion and democratic participation.
The MASTER project is an initiative aimed at facilitating the participation of low-skilled adults in formal education / training opportunities and in the labour market by developing or reinforcing their personal, social and learning competencies, considered vital for the re-activation and re-engagement of potential learners from vulnerable groups. The project also aims to improve the capacity of Adult Education providers to reach out to target groups through the development of a multi-stakeholder outreach strategy.
The project brings together a consortium of partners with extensive experience in the field of adult education, both at national and international level. The partnership benefits from a broad range of complementary expertise in adult guidance, research, training and networking. The Consortium is composed of partners from Italy, Portugal, the UK, Cyprus and Belgium, including higher education institutions, public and private Adult Education providers and an umbrella organization representing educational institutions and associations from adult education at EU level. The project will be completed in 2022.
Further information is available from the SWAPWest office on 0141 564 7206 or by email at swapwest@scottishwideraccess.org
about us